Trudeau speaks about artificial intelligence strategy in Brampton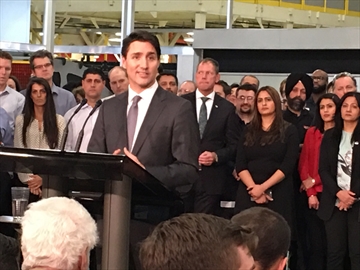 Prime Minister Justin Trudeau visited the Magna International Incorporated facility to announce the federal government's new Pan-Canadian Artificial Intelligence Strategy.
Brampton's Magna International Incorporated facility was one of the stops on Prime Minister Justin Trudeau's post-budget tour on Thursday, March 30.
Trudeau stopped by the global automotive supplier to speak about the government's $125 million investment into a Pan-Canadian Artificial Intelligence Strategy.
He was joined by a number of Members of Parliament, including Brampton West MP and Parliamentary Secretary to the Minister of National Revenue, Kamal Khera.
"From smartphone applications to self-driving cars, artificial intelligence can change the way we interact with each other and our surroundings," stated Khera.
"Our government is investing in research, talent and collaboration resources to make our nation a global leader in the artificial intelligence space."
The Canadian Institute for Advanced Research (CIFAR) will be responsible for administering the new funding toward the strategy.